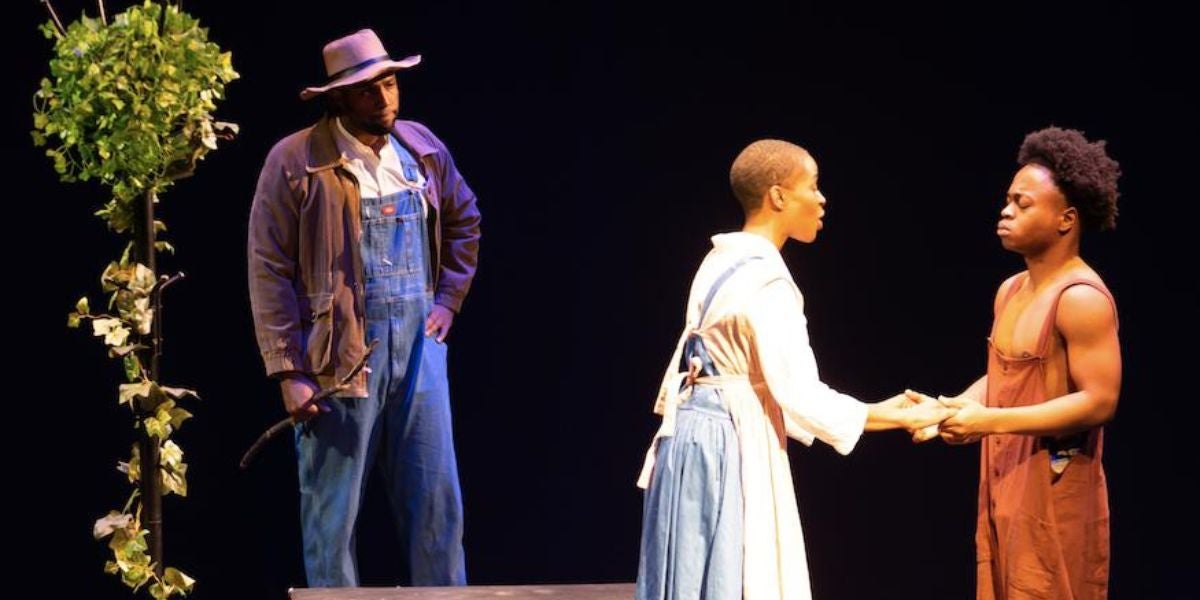 The Sheen Center
Dust of Egypt
Free Staged Reading Series
Date

September

18

-

October

9

, 2023

Location

Studio Theater

Doors Open

Approximately 30 minutes before showtime.

Ticket Prices

Free | RSVP Required (Freewill Donation Appreciated!)

Availability

On Sale Now
Event Details
What will a mother do to save her child? Dust of Egypt, a new play by Karin Abarbanel, dramatizes the true, little-known story of the inspiring Black activist Sojourner Truth's heroic and historic fight to rescue her 5-year-old son Peter after he is sold and illegally taken from New York State down South.
The Sheen Center is proud to present a staged reading series of Dust of Egypt's award-winning showcase production with its original cast. The play debuted at the New York Theater Festival's 2022 Winterfest, where it enjoyed a three-day, sold-out run. It won the Festival's Best Actress Award for Desi Waters' stirring portrayal of Sojourner, as well as nominations for Best Production and Best Director. The Festival's show was mounted by Domani Productions.
Runtime: Approximately 60 minutes.
Best known for her "Ain't I a Woman?" speech, Sojourner Truth was the Oprah of her day. But before she became a celebrated orator and activist, a young Sojourner was the first Black woman ever to sue a white man in court. Against all odds, she won.
Dust of Egypt follows her moving quest to find her boy and bring him home. A memory play, it begins in the 1860s and shifts back and forth in time as it follows Sojourner's journey from anger and grief to forgiveness and hope. The play explores tangled race relations, fighting injustice, faith, resiliency, and releasing the past.
There's never been a better time for Dust of Egypt!
This intense drama:
• Explores racial injustice and its human toll
• Celebrates the power of courage and forgiveness
• Shares Sojourner's vision for a better future
Why This Staged Reading Series?
A staged reading is a rehearsed read-through of a script, often in front of an audience. Actors may be off-book or on-book and some (or all) of the stage directions are read aloud.
After a triumphant showcase run, Dust of Egypt's cast is reuniting for this reading series with the goal of seeking financial and theatrical support to take the play to new stages and for educational outreach (https://www.dustofegypt.com)
Playwright Karin Abarbanel pursued her training at the T. Schreiber Studio and Theater's new playwrights program led by Mick Casale, an award-winning playwright and instructor. Karin created Dust of Egypt in a workshop setting at Present Tense Productions. The T. Schreiber Studio and Gene Frankel Theatre mounted staged readings prior to its full production at the NY Theater Festival. Karin currently has several new dramatic projects in development, including a screenplay, Mr. Wilde Goes West, about a young Oscar Wilde's tour of America and Walt and Private Hathaway, a play based on Walt Whitman's Civil War experience tending wounded soldiers.
Director Rhonda PASSION Hansome, nominated for Best Director for Dust of Egypt at the NY Theater Festival, is a critically acclaimed director, actor and comedian. She has directed over 35 productions including: Saviour? (Dwyer Cultural Center), Another Man's Poison (Peter Jay Sharp Theater 42nd St.), Antigone Asata Shakur (Times Sq. Arts Center), T'was The Night Before Kwanzaa (Black Spectrum and Billie Holiday Theaters), Real Black Men Don't Sit Crosslegged On The Floor (New Federal Theater, Best Ensemble AUDELCO Award) and Melba Moore's Sweet Songs of the Soul (New Federal Theater, Best Solo Performer AUDELCO Award). Rhonda's TV acting appearances include Louie, Saturday Night Live, Caroline's Comedy Hour, Stand-Up Spotlight, Arsenio Hall, Evening at THE Improv, Showtime at the Apollo and The Joan Rivers Show. She is an Outstanding Comedian Backstage Bistro Award winner and has opened for Anita Baker, Diana Ross, Aretha Franklin, Smokey Robinson, Jackie Mason and The Pointer Sisters. She's held membership at the Lincoln Center Theater Directors Lab, the Women's Project Directors Forum and the Workshop Theater Company, and was Artistic Director of the NJPAC Young Writers Workshop for five years.
Producer Emani Brielle Simpson is also an actor, producer, director, playwright and the founder of the production company, The Real Artists(TRA). TRA's mission is to create an inspirational environment where artists can hone their crafts, thrive and network to build a career out of their passions. Emani is passionate about collaborating on new works that make the audience think. She is an associate producer for and a proud member of Breaking & Entering Theater Collective. Emani is also a proud member of the Fled Collective where she is an associate producer and co-host of the late-night play competition series, Serials at the Flea Theater. She began her theater career by fully producing an original stage play called, Love is Respect, primarily themed around domestic violence awareness, in 2013. These experiences have made her a passionate,well-rounded artist who works in a collaborative style to create a safe space and allows for effective problem solving when needed.
Dramaturge Dr. Jaye Austin Williams is Assistant Professor and Interim Chair ('22-'23) of the Department of Critical Black Studies at Bucknell University. A critically acclaimed actor, director, playwright and consultant for thirty years, she now specializes in the (often fraught) melding of drama, cinema, performance, queer and feminist theories with a critical analysis of the conditions that persist in plaguing Black "life," in what cultural historian and theorist Saidiya Hartman calls "the afterlife of slavery." Dr. Williams focuses on the structural and global implications of antiblackness, its emanation from the collective unconscious, and its myriad performances, both subtle and overt, within global modernity. Widely published, she is currently completing a monograph entitled, Staging (Within) Antiblack Violence: Toward a Radical Black Dramaturgy.
Desi Waters (Sojourner) is honored to reprise the role of Sojourner. She's an actor, singer, writer, and director. Her favorite roles include: Mrs Corry in Mary Poppins, Harriet Tubman in Fearless Girl, The Nurse in Romeo and Juliet, Mariya in Uncle Vanya, and as a vocalist for former President Clinton's Birthday at Radio City Music Hall. TV credits: Nickelodeon's The Big Help, The Blacklist, Harlem, New Amsterdam, Blue Bloods, Broad City, and Power. She is the Artistic Director for CityKids Rep, a theater company that uses ARTivism to help teens amplify their voices. Proud Mama. Member of SAG-AFTRA. www.desiwaters.com.
Jade Cayne (Bell) is an American actress, model, voice over performer and born and raised New Yorker. As a child Jade fell in love with seeing characters give life to the stories she watched both on and off screen. She graduated from Binghamton University, where she studied acting and performed in her first stage production of The Twilight Zone. Jade holds a BA in Business Administration with a minor in Theatre and after working in Marketing & Public Relations for three years, she decided to pursue acting professionally. She has since gone on to feature in commercials, short films, and TV series such as The Blacklist, Full Circle, Homicide City, and Evil Lives Here. When she is not performing, Jade enjoys international travel and writing original poetry.
Eliott Johnson (Robert, Thomas) is excited to be back working on Dust of Egypt with this amazing creative team. A Native of Chicago, currently living in New York. Past theatre credits include Othello, Lombardi, A Soldier's Heart, and The Little Foxes. Television and film credits include Empire, Chicago Fire, The CHI, and A Man of His Time, directed by Estelle Parsons. Eliott Holds his MFA from The Actors Studio and attended BADA. Eliott is Represented by Stewart Talent and Stein Entertainment.
Jeanna Schweppe (Mrs. Gedney) is originally from St. Louis, Mo. Her professional career started in the Broadway show 42nd Street as Peggy Sawyer. In the Broadway revival of Grease she played Sandy, Rizzo and Cha Cha. She was also part of Trevor Nunn's production of Starlight Express National Tour in which she performed the roles of Dinah and Ashley. Regional theatre credits include Arena Stage/Goodspeed Opera House production's of Animal Crackers, St. Louis MUNY'S production of George M with Joel Grey and the John Houseman's theatre production Comfortable Shoes. Film and Television work include In and Out with Tom Selleck, The Guru with Marisa Tomei, A Chorus Line and the role of Megan on Another World. Independent films include The Break In which was nominated as "Best Short" in the Beaufort International Film Festival. Also, The Woods which premiered at the Brooklyn Horror Film Festival, New York Shorts International and Queen Palm Festival. Recently, Jeanna was seen in the film Through Open Doors by Raven Petretti at the New York Shorts International Film Festival. Jeanna is forever grateful for all the love and support of her family and friends. Special shout out to Neal for unwavering support, belief and guidance.
Austin Iredale (Mr. Gedney, Auctioneer) is a NYC-based actor, writer & producer. His latest work as an actor is in the Showtime series Let The Right One In. His short film, The Grey in Between, which he coproduced and acted in, premiered at the New York Shorts Film Festival. In the fall of 2022, Austin made his New York Stage debut at Teatro LATEA in this very play, Dust of Egypt. A graduate of the STELLA ADLER ACADEMY OF THEATRE & ACTING in Los Angeles, his formative years were spent working in the LA theatre scene. There he acted frequently with THE VAGRANCY, an award-winning not-for-profit theatre company. He co-founded the Stella Adler Lab Series, Dark Fridays, and volunteered as performer, director and producer for A LIGHT IN DARK PLACES, a short play series associated with The American Foundation for Suicide Prevention.
Austin recently launched the production company, ALWAYS WILD CONTENT with his wife and creative partner, Maia Nikiphoroff, and the "Stories Unite Us" Campaign, a collection of recycled tote bags that seek to empower people through their love for storytelling. Proceeds go to supporting WOMEN IN FILM PARAGUAY, a non-profit mentorship program that teaches young women in Asuncion how to tell stories through film. For more information, please visit: www.alwayswildcontent.com.
Nick Turturro (Mr. Romeyn) is an actor and visual artist based out of Brooklyn, New York. He has performed throughout NYC in theaters such as Classic Stage Company, The Flea Theater, The Tank, Lenfest Center for the Arts, Soho Playhouse, and more. He's worked on countless short films, and can still be found on an in-app Bumble ad even though he hasn't been on Bumble since 2019. He loves his cat Oscar, black coffee, and collaborating with the amazing artists of this city. He is represented by UGA Talent. www.nickturturro.com @nickturturro01
Carleton King (Narrator/SM) Born and raised in Brooklyn, New York, this young talent started as a rapper, singer, songwriter but realized in high school that his heart led elsewhere. Never losing his love for music, King decided to focus on acting. Now, with more than 30 plays, TV shows, films and directorial credits under his belt, King seeks to build his production company Tru Luv Ent. King credits Jesus as the source of his gifts and opportunities.
O'wayne Dalhouse (Peter) is a versatile Jamaican-born actor who can perform with both a Jamaican-Carribean accent and in standard English. He began his acting career at the age of nine. Since then, he has appeared in a variety of roles, ranging from the fictional aging handyman Candy in Of Mice and Men to the legendary jazz musician Louis Armstrong in Leaving Louis Armstrong. He has further developed his acting craft by appearing in front of the camera in numerous short films.