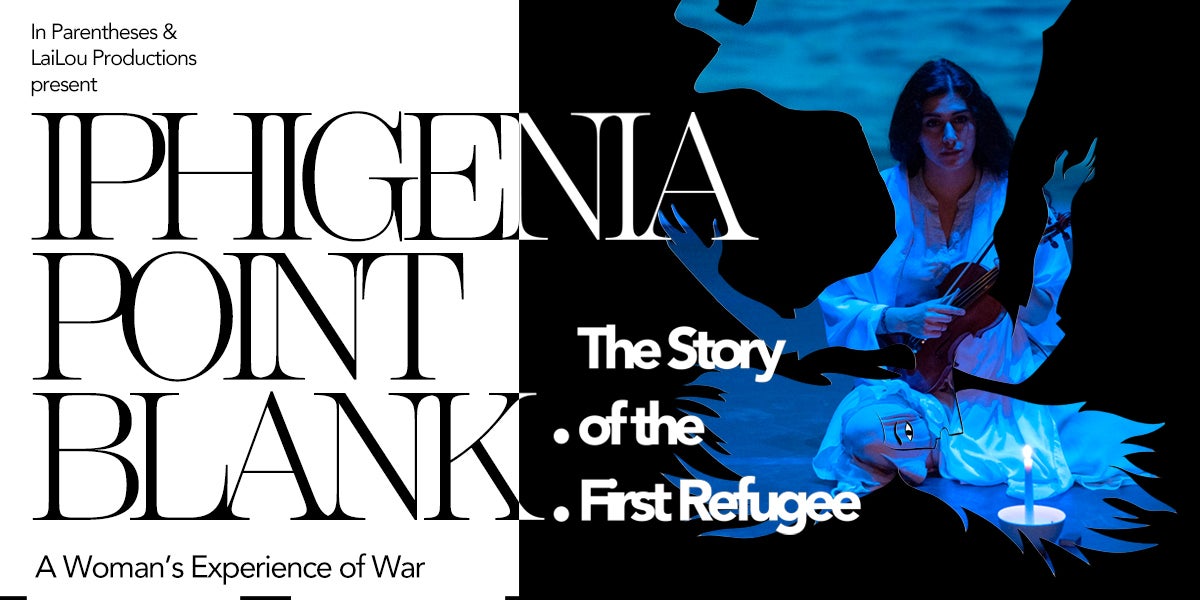 IN PARENTHESES AND LAILOU PRODUCTIONS
Iphigenia Point Blank: The Story of the First Refugee
Date

December

5

-

9

, 2023

Location

The Frank Shiner Theatre

Doors Open

Lobby Opens 1 Hour Before Show

Ticket Prices

Tickets are priced according to a Sliding Scale Ticketing Initiative

Availability

On Sale Now
Event Details
Iphigenia Point Blank: The Story of the First Refugee is a public ritual that invites the audience to participate in Iphigenia's wedding funeral. According to Syrian tradition, when a young woman dies before she weds, her wedding is celebrated during the funeral.
Throughout the performance, a documentary film is projected without a soundtrack. The play is live "scoring" the film.
IPHIGENIA POINT BLANK is a requiem for those who drowned, a memorial for those left behind, a hymn to life for those who survive, and a call for justice for all people displaced and lost to war.

Play by Lisa Schlesinger
Directed by Marion Schoevaert
Music by Kinan Azmeh
Film by Irina Patkanian
Choreography by Hussein Smko
Installation Artist Kevork Mourad
Produced by Nilou Safinya
Starring:
Sarah Himadeh* and Layale Chaker as Iphigenia
Ali Andre Ali as Agamemnon
Danny Bryck* as The Wind
Crystal Marie Stewart as Clyde
Shahzeb Hussain* as Orestes
Sophie Zmorrod*, and Fajjr Khan as The Chorus
* The Actor appears through the courtesy of the Actors' Equity Association, the Union of Professional Actors and Stage Managers in the United States.
Additional Ticket Information
This is an Equity performance.
Tickets are priced according to a Sliding Scale Ticketing Initiative, reflecting our commitment to accessibility and belief that theater should not be a luxury or a privilege. All are welcome here.
***No matter what amount you pay, 20% of your ticket price will be donated to Doctors Without Borders directly.***
What Should I Pay?
Use these guidelines to help decide what tier of sliding scale tickets is right for you.
$95: Pay it Forward
This price allows us to subsidize lower priced, accessible tickets.
$65: The True Cost of Your Seat
This price reflects the costs of a professional Off-Broadway production.
$35: Regular Price
This price represents a more affordable ticket.
$15: Access
This price maximizes access for all who want to join us.