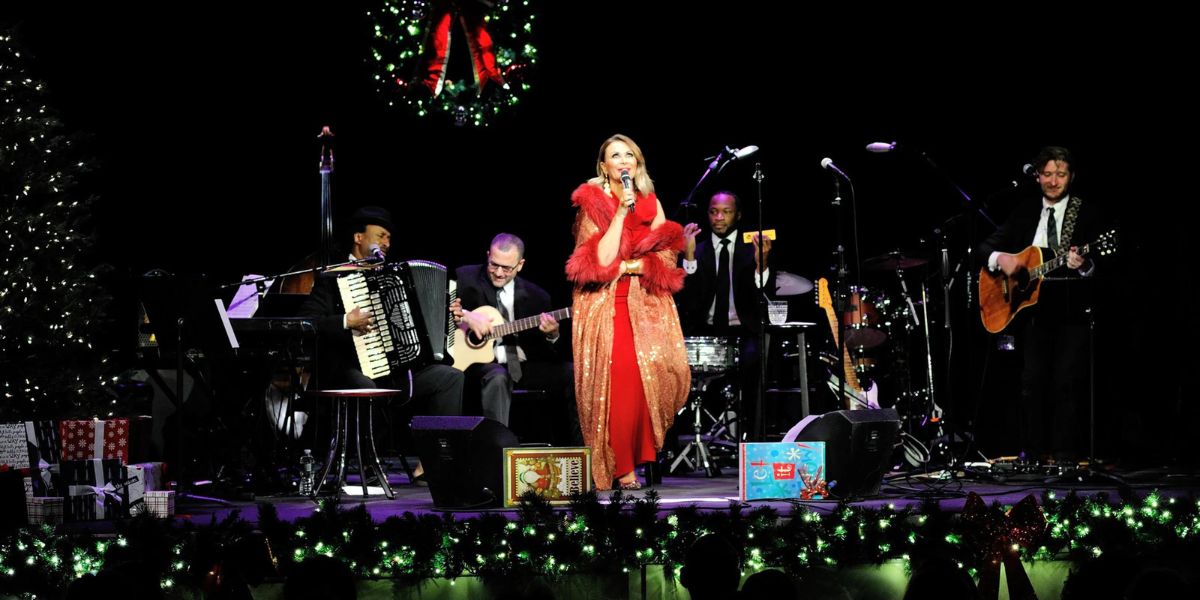 The Sheen Center
Love Under the Christmas Tree
Giada Valenti
Date

December

3

, 2023

Event Starts

4:00 PM

Location

Loreto Theater

Doors Open

Approximately 30 minutes before showtime.

Ticket Prices

$45-$65 (including fees)

Availability

On Sale Now
Event Details
Experience the magic of the holiday season like never before with singer Giada Valenti and her captivating Christmas show! Celebrated for her spectacular PBS Special, Giada brings a heartwarming blend of classic and contemporary Christmas songs, infused with her unique and elegant style. This extraordinary concert promises an unforgettable evening of musical bliss, filled with festive cheer and joy.
Giada Valenti's velvety and emotive vocals will transport you to a winter wonderland, as she skillfully weaves together beloved Christmas melodies. Her charming and radiant personality shines through, enveloping the audience in an atmosphere of warmth and celebration.
But Giada is more than just a remarkable singer; she is a master storyteller. During this delightful Christmas show, she shares intimate and touching anecdotes, regales the audience with tales of cherished Italian holiday traditions, and presents heartwarming stories that beautifully capture the essence of Christmas and its significance. Through this personal touch, Giada forges an extraordinary connection with her audience, ensuring an experience that resonates deeply and creates lasting memories.
Join us for an evening of holiday enchantment, where timeless music, elegant artistry, and touching narratives come together in perfect harmony. Giada Valenti's Christmas show promises to be a feast for the senses and a celebration of the true spirit of Christmas. Don't miss this opportunity to revel in the magic of the season with one of the most captivating performers of our time.
Singer and songwriter Giada Valenti was born and raised in Venice, Italy. In Europe, she was signed as a young singer with the record label BMG. When in 2005, a major record label in New York showed serious interest in her unique voice and her romantic music, she moved to the United States.
In the United States, she is most known for her stunning music special "From Venice With Love," which aired nationally on PBS television. The airings of her PBS special made it possible for her to do concerts in Performing Arts Centers and Theaters all around the country. In November 2017, she debuted as a headliner in Las Vegas with a concert at The Smith Center for the Performing Arts. In October 2018, she made her debut at Carnegie Hall in New York City, where she returned by popular demand in 2019.
For the past fifteen years, Giada, currently a resident of Las Vegas, has released her CDs "And I Love You So", "Italian Signorina", and "My Lullaby", "From Venice With Love", garnering rave reviews. She performed for 8 years straight on the Red Carpet of the Columbus Day Parade in New York City. She is a 12 times Grant recipient of the Sergio Franchi Music Foundation. In 2019 Andrea Bocelli asked her to sing with him at a concert benefitting his Foundation.
To stay in contact with her fans during COVID19, she started a live streaming video series on Facebook and YouTube, entitled "Giada Live". This has become almost a television show with celebrity interviews, cooking demos, stories about Italy, and singing. In September 2021 she celebrated her 150th episode.
In November 2021 she released a single with a special interpretation of "Silent Night – Noche De Paz". This is the first step of an ambitious Christmas project that includes a full album a television special and a concert tour.
Giada is very passionate about food. She is a longtime member of the Accademia Italiana della Cucina, a by the Italian government recognized cultural organization that checks out Italian restaurants around the World. She was featured on morning shows of ABC, CBS, FOX, and NBC around the United States, doing cooking demos, often making her famous Tiramisu.